Yeah, we know. There are a lot of affiliate programs to choose from. But how many have an expert sales page like this one? Maybe a handful. Not only is this one of the highest converting websites online but we also offer tool like pop-unders and banner ads to help you promote it!

You will earn a whopping 75%! That is almost $45.00 per sale. Also you will get 75% of OTO special offer of $67.00, you will get about $50.00 from that offer, so together you will get about $95.00!

Here you can find our product gravity charts - CLICK HERE

Here are some conversion stats -





And here are another stats...



Affiliate Bonus structure:
| | | |
| --- | --- | --- |
| | | |
| 200 - 400 sales per month | | 350 sales = $12,950 commission + $1050 bonus |
| 401 - 900 sales per month | | 600 sales = $22,200 commission + $2400 bonus |
| | Earn 100% commission | 950 sales = $35,150 commission + $9010 bonus |
Please contact us here if you are one of the affiliates who earned bonuses. Provide your Clickbank ID, your paypal email and the number of sales you have made for each of the products that count towards your total sales. We will reply asap and send your payment through within 7 days.

Remember: If you do not contact me with your affiliate ID and PayPal address I can not send you your bonus payout.

Getting started is easy. Our Affiliate program has changed for the better! Please follow the instructions below:

How to become a
Energy 2 Green
Affiliate:
Step 1: Sign up for your free ClickBank Account.


Signing up is free and easy. Just go to the following we address to sign up with them. If you already have a ClickBank account, you will use your current Nickname.

Step 2: Write down your Affiliate Web Page link:

Final step is easy. When you created your account, you picked a nickname. This is what you will use to log into your account and also use in your links to link you to your sales. Get out a piece of paper and something to write with. Below you will see a web address. All you are going to do is replace the red text that says "YourClickBankNicknameGoesHere" with your nickname. So, if when you signed up you used "jamesque" as your nickname, you would put that in place of : "YourClickBankNicknameGoesHere". So do it now, write down the following address replacing the red text with your nickname. (no spaces)

http://YourClickBankNicknameGoesHere.energy4gre.hop.clickbank.net


Now test your link. Open up a Internet Explorer window and type the address you wrote down into the address bar. When you do this and press enter, you should see an exact duplicate page as www.energy2green.com. It is supposed to look the same. The difference is, it is now being tracked for you by ClickBank. So if they order, you get 75% right away. The best news is that if they leave and come back later (up to 30 days from then) you still get credit! Even if they just simply go to www.energy2green.com! That is great for you. It means you will not lose a commission if they don't decide to buy right away.

Your done. Welcome to our affiliate program!

Affiliate Tools:


Banner Ads:

Below are different banner ads you can place on your site. When they click on them, they will be sent to our site and you will receive 75% if they join! Just change the xxxxx in the code to your ClickBank Nickname and copy and paste the HTML code on your site where you want it. There are a few different sizes and styles to choose from



Size: 255 x 313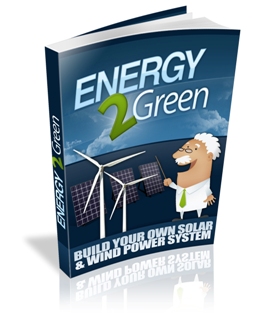 Size: 255 x 313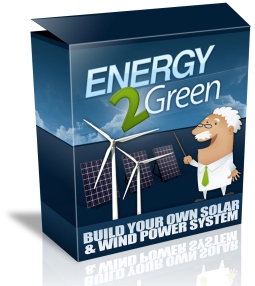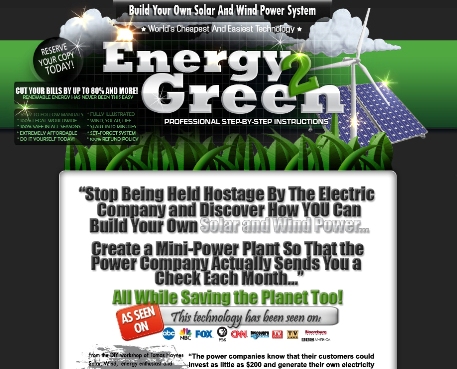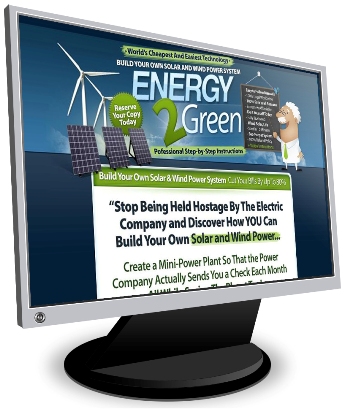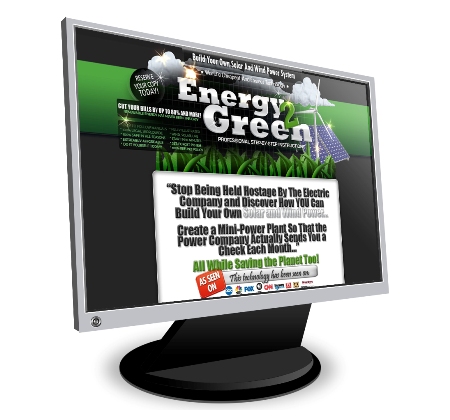 Mini Sites:
...Mini Sites soon will be available!


PPC Keywords:

Below are the top 10 PPC networks:

Sample PPC Ads:
Cooming Soon!
Email Campaigns:
Email 1:
Title: Build Your Own Wind And Solar Power System, For a Better Tomorrow... Today!

Hi [insert name],

My name is Tomas and I have spent a great part of my life working for
power plants and electricity companies. I am now retired and I no longer
fear to share what I have learned over the years. Power companies are
charging you way too much for electricity! They have been using the
recent fuel problems to justify their price increases, but this just
isn't fair to people like you and I.

You know why?

Click here to check it out online now (insert your hop link)

Because power production costs are way under what people believe them to be!

Power companies are charging ridiculously high costs for their electricity
because they know that no matter how much they ask you to pay for it, you
will HAVE to pay it. Who can live without electricity, right? I am here to
help you get out of this exploitation circle. My Energy2Green kit is
going to teach you everything you need to know to reduce your utility bills
to $10 a month or even eliminate them completely. Even better: if you produce
more energy than you use, the power company will actually pay you for your electricity!

Click here to start using the system for yourself (insert your hop link)

Windmills and solar panels are being sold at prices averaging $3000. I am here to teach
you how to make your own for less than $200!

My Energy2Green manual is going to teach you everything you need to know to
convert your house into a green home even with an extremely limited budget.

Most people believe the only way to get solar and wind power is to buy factory-built
panels and windmills and that it is too costly to be envisageable by average-class people.
WRONG! I am here to show you the OTHER way most people don't know about. The CHEAP way.

Just visit http://www.energy2green.com (insert your hop link) and i show you how this is possible!

Speak soon,

Energy2Green systems.
http://www.energy2green.com (insert your hop link)
----------------------
More Emails Cooming Soon!